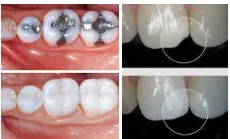 A composite (tooth colored) filling is used to repair a tooth that is affected by decay, cracks, fractures, etc. The decayed or affected portion of the tooth will be removed and then filled with a composite filling.
There are many types of filling materials available, each with their own advantages and disadvantages. You and your dentist can discuss the best options for restoring your teeth. Composite fillings or silver amalgam fillings, are the most widely used today. Because composite fillings are tooth colored, they can be closely matched to the color of existing teeth, and are more aesthetically suited for use in front teeth or more visible areas of the mouth.
While composite fillings are very durable and can last many years giving you a long lasting beautiful smile, they are not permanent and may someday have to be replaced.
Reasons for composite fillings:
• Chipped teeth.
• Closing space between two teeth.
• Cracked or broken teeth.
• Decayed teeth.
• Worn teeth.
How are composite fillings placed?
Composite fillings are usually placed in one appointment. While the tooth is numb, our dentists will remove decay as needed. The space will then be thoroughly cleaned and carefully prepared before the new filling is placed. If the decay was near the nerve of the tooth, a special medication will be applied for added protection. The composite filling will then be precisely placed, shaped, and polished, restoring your tooth to its original shape and function.
It is normal to experience sensitivity to hot and cold when composite fillings are first placed, however this should subside shortly after your tooth acclimates to the new filling.
You will be given care instructions at the conclusion of your treatment. Good oral hygiene practices, eating habits, and regular dental visits will aid in the life of your new fillings.
Amalgam Fillings
Most people recognize dental amalgams as silver fillings. Dental amalgam is a mixture of mercury, silver, tin and copper. Mercury, which makes up about 50 percent of the compound, is necessary to bind the metals together to provide a strong, hard, durable filling. After years of research, mercury continues to be the only element that will bind these metals together in such a way that it can be easily manipulated to fill a cavity.
Dentists often prefer dental amalgam because it is easier to work with and longer lasting than other alternatives. Many dentists consider amalgam stronger than the resin-based composite, and therefore use amalgam for back teeth fillings. Many patients prefer dental amalgam for the same reasons, plus its cost-effectiveness and ability to fill cavities quickly. It is estimated that more than 1 billion amalgam fillings are placed annually.
ADA and FDA Recommendations for Fillings
Dental amalgam has a 150-year proven track record of as one of the safest, most durable and least expensive materials used to fill a cavity. Ongoing scientific studies conducted over the past 100 years continue to show that amalgam is not harmful.
Much of the concern over the safety of amalgams arises from the use of mercury as a bonding agent. But when mercury is combined with other materials in dental amalgam, its chemical nature changes, rendering it harmless. The amount of mercury released in the mouth under the pressure of chewing and grinding is extremely small and no cause for alarm. In fact, it is less than what patients are exposed to in food, air and water, and less than what gets released in patients who opt to have an existing amalgam filling removed.
The American Dental Association (ADA) maintains that dental amalgam remains a safe, affordable and durable cavity filling choice for dental patients. In addition, the U.S. Food and Drug Administration (FDA) does not recommend the removal of amalgam fillings from patients who have them because this could cause more harm to the tooth structure and pose other health risks to the patient.
Deciding which type of filling to use is best made by the patient and dentist, taking into account the size and location of the cavity, patient history, cosmetic concerns and cost. You can ask our dentists to discuss all of the choices available for dental fillings and help you decide which alternative is right for you.